About me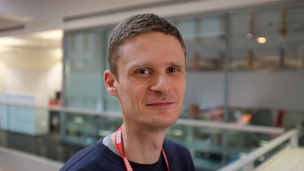 I am a software engineer with experience at all levels of the software stack, including assembler, C, C++, Perl, JavaScript, and Ruby.
With over 24 years' professional experience in several industry sectors, including medical devices, defence, and broadcast media, I have designed software for web applications, real-time embedded DSP systems, microcontrollers, Windows device drivers, and Windows desktop applications.
Since 2008 I have worked at BBC Research and Development, currently as Principal Software Engineer, developing prototypes for future BBC applications and services, creating open source software, and improving the department's software engineering culture.
I represent the BBC on the W3C's Advisory Committee, co-chair the Media & Entertainment Interest Group, and participate in several Working Groups, contributing to improve support for audio and video media applications on the web.
Links